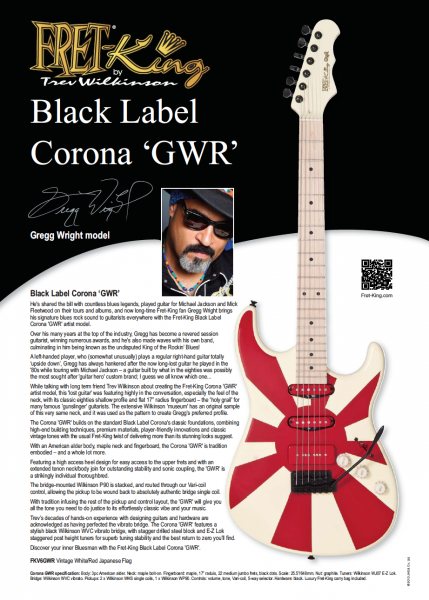 Fret-King's Black Label Corona "GWR" Gregg Wright Signature Model guitar, designed by Trev Wilkinson, makes its debut at the 2013 NAMM show in Anaheim, CA the weekend of January 25-27, 2013.
"It's a real honor to have my own signature model guitar" says Gregg. "Trev Wilkinson, Dennis Drumm and I met last year at the Voodoo Rooms in Edinburgh. They approached me with the idea of building a Gregg Wright signature model guitar, which quite frankly had never crossed my mind. I told them about a guitar I had built in 1984 specifically for the Jackson's Victory Tour. It became my main axe for the next eight years and appeared on countless tours and albums. Norman Harris of Norman's Rare Guitars told me the Hard Rock Cafe was interested in the guitar due to its unique history, so off it went to the Hard Rock and I got my little piece of Rock & Roll immortality. But . . . it's always bugged the Hell out of me, giving up that guitar! If you're a serious player, giving up a guitar you've worked with for a long time is almost like giving up one of your kids or something equally horrible! I told Trev and Dennis this story and described the guitar in great detail."  
Trev Wikinson immediately suggested some great ideas for Gregg, "Not only can we build a better guitar exactly to your specifications, but equip it with better technology. It will stay in tune and the bridge and tremolo will function perfectly!"
So now, the Fret-King Black Label "GWR" is a reality. Gregg will officially debut this guitar at the House of Blues Anaheim, Saturday, January 26, 2013. Showtime is 10:00 PM. No cover charge. The Fret-King Black Label GWR is available a Fret-King dealers, worldwide: http://www.fret-king.com/gregg_wright.html 
Check out this excellent review in the U.K.'s Guitarist magazine about the Fret-King Black Label GWR Gregg Wright Signature Model: http://www.musicradar.com/gear/guitars/electric/6-string-solid-body/black-label-series-corona-gwr-gregg-wright-model-573881